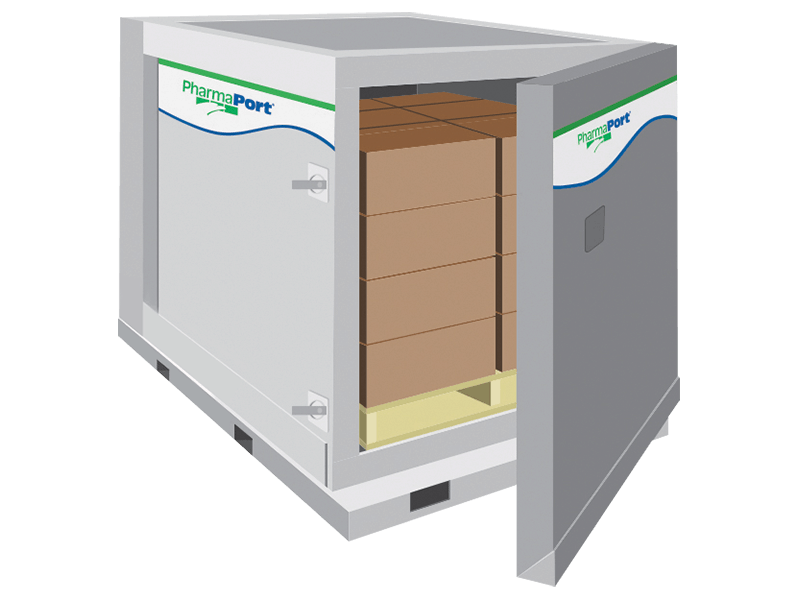 Precise 5°C Temperature Control
The PharmaPort® 360 safely maintains internal temperature of 5°C in extreme ambients from 60°C to -40°C and in two modes.
Recharge Mode: When connected to an AC power supply the container functions as a high-performance laboratory refrigerator
Transport Mode: While operating on internal power the container maintains setpoint temperature for extended hold times of >72 hours @ 30°C, and >100 hours @ 23°C ambient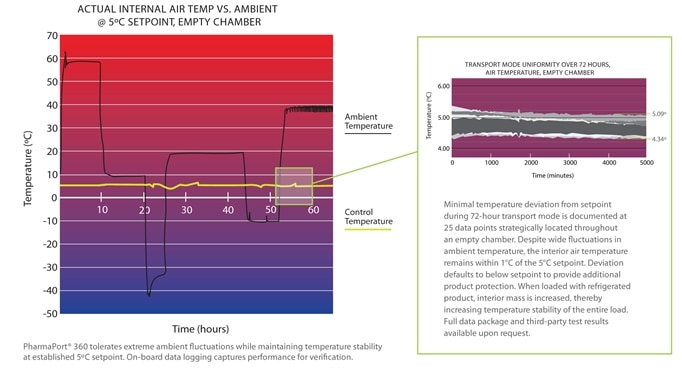 Energy Efficient, Internally Powered in Transport
The PharmaPort® 360 is energy efficient and operates with minimal environmental impact. It maintains internal temperature control and uniformity throughout the chamber over specified hold times and ambient conditions.
Brushless DC fan and compressor motors consume minimal power and off­er exceptional reliability over conventional motors
During transport mode refrigeration compressors are inactive; the regenerative cooling and heating system consumes no external energy and generates no external heat, noise or vapor
OQ and PQ documentation is available
Redundant Systems
The PharmaPort® 360 features many redundant systems to protect valuable cargo and significantly reduce the possibility of a temperature excursion in the event that any single system should fail:
Two individual refrigeration systems for charging the cooling plate, and maintaining temperature in charging mode
Two individual heating coils charging the warm plate
Six ducting fans: two for cooling, two for heating, two for circulation
Two door latches
Dual gasket for door seal
Advanced Remote Monitoring and Data Logging
The GPS Tracking and GSM Monitoring systems permit 24/7 retrieval, analysis and sharing of system information such as global location, internal and external temperatures, temperature conditioning capacity, and deviations from set point. The PharmaPort® 360's Pro-Tectic® technology system works together with the remote monitoring to communicate alarm information more than 6 hours before a potential temperature deviation.
Supports compliance with World Health Organization (WHO) standard Status Alarm/OK, and MKT (mean kinetic temperature)
User programmable ­five temperature zones (recommended PDA-39-ICH guideline)
PDF/A (ISO 19005-1) provides a mechanism for representing visual appearance of electronic documents over time, independent of the systems used to create, store or render such files