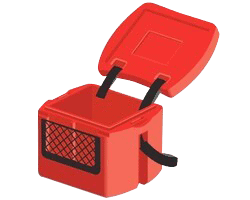 Via® Blood Transport
The ultimate temperature protection for blood
Transport and temporarily store packed red blood cells, platelets, specimens and organs. The simple, rugged, reusable design will withstand years of use, while leading-edge technology provides ultimate temperature protection. ZERO BENCH-TIME™ refrigerant technology saves assembly time.
Temperature range:
1 to 10°C for min. 12 hours
1 to 6°C for 8 hours
Payload size:
3-7 blood bags (250 ml each)
Insulation type:
Expanded polypropylene (EPP)
SEE PRODUCTS
Via Blood Transport Product Range
Solution
Part
Number
Temperature
Range
Minimum
Duration (hrs)
Payload (in)
Payload (mm)
Payload
Volume (l)
Manufacturing
Location
L
W
H
L
W
H
Via Blood Transporter
960DOLLY
0
0
0
USA
Via Blood Transporter
B1R8HU
Refrigerated
8
9.11
7.30
6.65
232
186
169
USA
Questions? We're here to help. Chat now.