SEPTEMBER 26, 2023
Pegasus Flies in Asia to Meet the Growing Demand in Pharmaceutical Supply Chains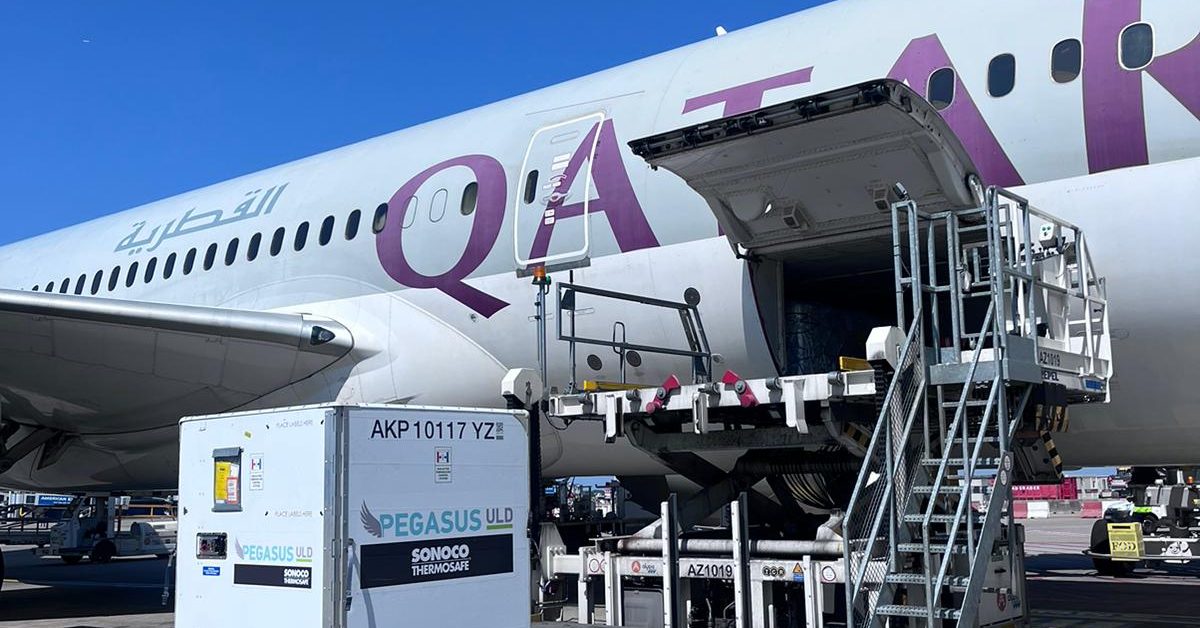 ARLINGTON HEIGHTS, IL., U.S. – Recently the Pegasus ULD Aircraft Temperature-Controlled Container has played a vital role in the increasing number of clinical trial and pharmaceutical shipments in/out the Asia Pacific region. These volumes are another indication of the growing pharmaceuticals and life sciences sectors in the region, creating the need for specialized Temperature-Controlled supply chain solutions.
Major Asian markets such as China, Japan, South Korea and India have been well-known for sourcing pharmaceutical ingredients and APIs for manufacturing, as well as generic drug development. Today, clinical trials are also increasing. All driving the need for Temperature-Controlled logistics services and specialized thermal packaging.
With significant distances between APAC and other major markets, air freight is a necessary mode of transport. Thermal packaging that is engineered for high performance and long durations is a must. The Pegasus ULD performs up to 300+ hours, equivalent to 13 days without any human intervention, providing temperature control for 2 °C to 8 °C payloads. The Pegasus ULD is also the world's first FAA and EASA-approved advanced passive bulk Temperature-Controlled Container for shipping time and temperature sensitive products, equipped with real-time tracking and temperature-measuring capabilities.

"With the combined high performance, streamlined airline and forwarder operations as a ULD and cost-effectiveness of passive solution the Pegasus ULD is a unique Temperature Control Container (TCC) that ensures pharmaceutical shipments arrive in-temperature and in-specification. Together with Partners we are delighted to support pharmaceutical shipments into the APAC region and around the world", says Federico Lupp, Director of Business Development – EMEA & APAC for Sonoco ThermoSafe's Bulk Rental Group.
"We are pleased to offer our specialised air freight services under the Pharma Advanced product for the growing pharmaceutical market in the Asia Pacific region. In coordination with our customer Bolloré Logistics, the Pegasus ULD has proven to be effective in keeping the cargo at the required temperatures.", says Miguel Rodriguez, Head of Cargo Products at Qatar Airways Cargo.
"Handling temperature critical healthcare shipments takes an orchestration of several supply chain stakeholders. Each hand off is carefully taken care of between road freight, airline operations, ground handling to customer. Robust packaging like the Pegasus ULD is a critical component as well in ensuring successful high-value shipments. We are glad to have collaborated together in this project in Asia Pacific", commented Brice Bellin, Head Healthcare & Life Sciences Europe at Bolloré Logistics.
The Pegasus ULD partners with global airlines, including Air Canada Cargo, American Airlines Cargo, Asiana Cargo, Cargolux, Cathay Cargo, Delta Cargo, Emirates SkyCargo, Korean Air Cargo, LATAM Cargo, Qatar Airways Cargo, Saudia Cargo, Singapore Airlines Cargo, Swiss World Cargo, Turkish Cargo and United Cargo, with more coming onboard soon.
The Sonoco Global Service Network covers ORD, JFK, MIA, DFW, LAX, AMS, LHR, DXB, ICN, HKG, (more Stations to be added during 2024) at partner locations ACL Airshop, Unilode Aviation Solutions, and Focus WFS where the Pegasus ULD fleet is in stock and available for release. Each station is an FAA 145 facility capable of performing the required ULD Maintenance, Repair, and Operation (MRO) as per regulatory requirements for flight safety. Each station also performs ground services to include the preconditioning of PCM Bottles (Phase Change Material) in the Temperature Controlled chambers available on site.
About Sonoco ThermoSafe
Sonoco ThermoSafe, a unit of Sonoco (NYSE:SON), is one of the largest global providers of temperature assurance packaging for the safe and efficient transport of pharmaceuticals, biologics, vaccines and other temperature-sensitive products. Sonoco ThermoSafe shipping solutions mitigate risk for customers and ensure product efficacy throughout the extremes of a supply chain. With operations in the Americas, Europe and Asia, Sonoco ThermoSafe has a vast product offering featuring industry-leading technology that encompasses refrigerated, frozen or controlled room temperature applications. In addition, Sonoco ThermoSafe's ISC Labs® deliver individualized design and testing services and innovative packaging solutions along with qualification and validation services to meet all regulatory requirements. More information can be found at www.thermosafe.com.
About Sonoco
Founded in 1899, Sonoco (NYSE: SON) is a global provider of consumer, industrial, healthcare and protective packaging. With annualized net sales of approximately $ 7.25 billion, the Company has approximately 22,000 employees working in more than 300 operations in 32 countries, serving some of the world's best-known brands in some 85 nations. Sonoco is committed to creating sustainable products, services and programs for our customers, employees and communities that support our corporate purpose of Better Packaging. Better Life. The Company was ranked first in the Packaging Sector on Fortune's World's Most Admired Companies for 2022 as well as being included in Barron's 100 Most Sustainable Companies for the third-consecutive year. For more information, visit www.sonoco.com.