OCTOBER 26, 2023
Sonoco ThermoSafe and Swiss WorldCargo Sign Global Master Lease Agreement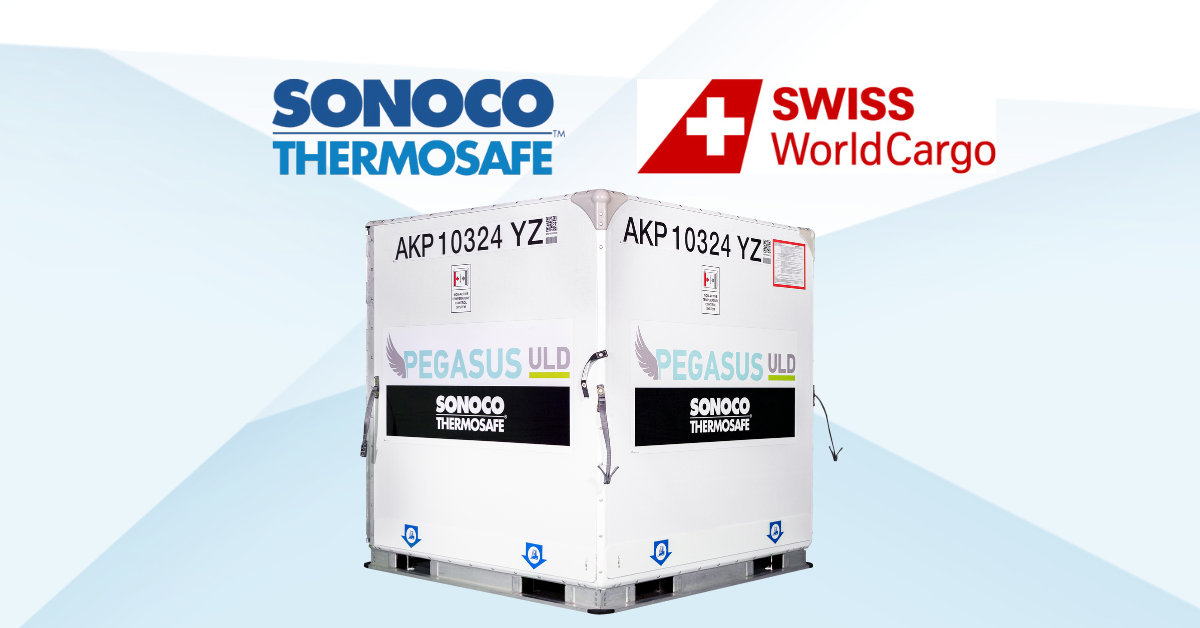 [Arlington Heights IL USA, 26 October 2023] – Swiss WorldCargo, the expert carrier in transporting high-value, care-intensive, and temperature-sensitive shipments, is pleased to announce its partnership with Sonoco ThermoSafe. The two industry leaders have signed a global master lease agreement for the deployment of Sonoco ThermoSafe's innovative Pegasus ULD® temperature-controlled bulk shipping container. This collaboration paves the way for pharmaceutical freight forwarders to access the Pegasus ULD® fleet directly through Swiss WorldCargo as of Winter Timetable 2023/2024, further enhancing the safe and efficient transportation of customers' cargo shipments.

Sonoco ThermoSafe's Pegasus ULD® represents a modern, FAA and EASA-approved solution that enables cost-effective international airfreight handling and customs processes. With the creation of their Pegasus ULD® Sonoco ThermoSafe with composite materials, Sonoco ThermoSafe is showcasing a strong commitment to sustainability, offering a solution that is both lighter and more damage-resistant compared to traditional metal containers. Additionally, the container incorporates a fully integrated, FAA-approved telemetry system, providing real-time, cloud-based data on payload, ambient temperature, and other critical environmental factors, all precisely synchronized with GPS location.

Swiss WorldCargo, renowned for its dedication to safeguarding the integrity of pharmaceutical and healthcare shipments, operates an extensive CEIV Pharma certified global pharma network, including its Zurich hub, which is double certified – GDP compliant by Swissmedic and IATA CEIV Pharma. Recently, Swiss WorldCargo announced the launch of SWISS Pharma and Healthcare, its new flexible product designed to meet the unique growing needs of its customers in regard to pharmaceuticals logistics.

"We are excited to partner with Swiss WorldCargo. Healthcare companies and their logistics providers can access the Pegasus ULD fleet via Swiss WorldCargo's extensive global network and through their branded products SWISS Pharma & Healthcare, General Cargo and Perishables. We are delighted the Pegasus ULD will offer a unique choice for pharma shippers as a one-of-a-kind Advanced Passive Temperature Controlled Container (TCC)", said Bourji Mourad, Director of Global Logistics and Partner Management for Sonoco ThermoSafe's Bulk Rental Group.

Christian Wyss, Head of Cargo Offering Development and Steering at Swiss WorldCargo, stated: "Our SWISS Pharma and Healthcare product has been highly refined to meet the evolving demands of our customers when it comes to pharmaceutical consignments. We look forward to offering soon the Pegasus ULD as part of our transportation/temperature solutions for rental, ensuring further safe and efficient transport of time- and temperature-sensitive healthcare freight."

About Sonoco ThermoSafe

Sonoco ThermoSafe, a unit of Sonoco (NYSE:SON), is one of the largest global providers of temperature assurance packaging for the safe and efficient transport of pharmaceuticals, biologics, vaccines and other temperature-sensitive products. Sonoco ThermoSafe shipping solutions mitigate risk for customers and ensure product efficacy throughout the extremes of a supply chain. With operations in the Americas, Europe and Asia, Sonoco ThermoSafe has a vast product offering featuring industry-leading technology that encompasses refrigerated, frozen or controlled room temperature applications. In addition, Sonoco ThermoSafe's ISC Labs® deliver individualized design and testing services and innovative packaging solutions along with qualification and validation services to meet all regulatory requirements. More information can be found at www.thermosafe.com.

About Swiss WorldCargo

Swiss International Air Lines (SWISS) is Switzerland's largest air carrier. With one of Europe's most advanced and carbon-efficient aircraft fleets, SWISS is a premium airline that provides direct flights from Zurich and Geneva to keep Switzerland connected with Europe and the world. Its division, Swiss WorldCargo, offers an extensive range of airport-to-airport airfreight services for high-value, time-critical and care-intensive consignments. As The Airline of Switzerland, SWISS embodies its home country's traditional values and is dedicated to delivering the highest product and service quality. SWISS aims to reduce its CO2 emissions by 50% by 2030 compared to 2019 and to achieve net zero (CO2-neutral balance) in 2050 – in line with Switzerland's climate strategy. SWISS is part of the Lufthansa Group and is also a member of Star Alliance, the world's biggest airline network.