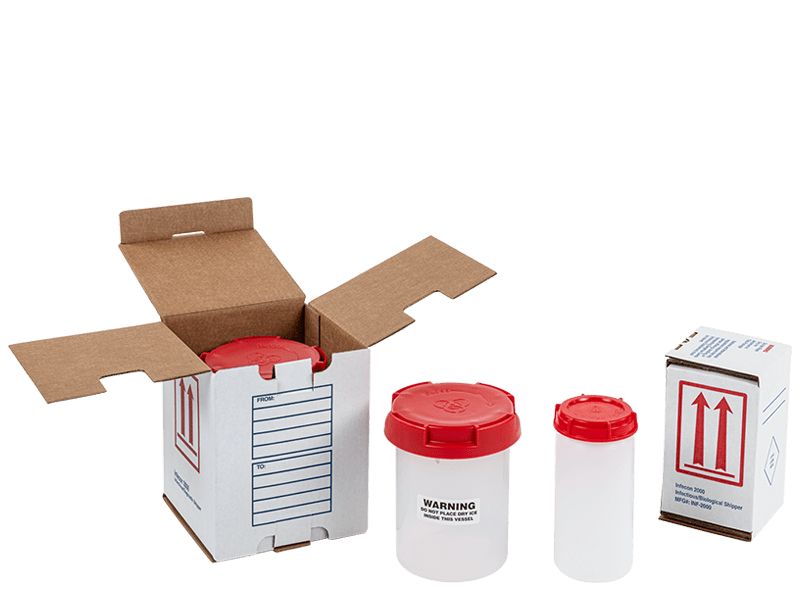 ThermoSafe® Infectious Shippers include components required for transporting infectious substances and meet U.S. Department of Transportation (DOT) and IATA requirements for transporting infectious substances.
Pre-assembled packaging includes everything for shipping infectious agents in accordance with DOT Regulation 49 CFR Parts 171 to 178 and IATA Packing Instructions 602.
ThermoSafe® Infectious Shippers include EPS foam container, flexible foam insert, clear plastic press-lock bag, secondary packaging, absorbent material for full capacity of blood, corrugated carton and step-by-step packing instructions.
Infecon® shippers include pressure vessel with stop-lock lid, compartmentalized bubble pouch, 50 ml absorbent sheet, corrugated outer carton with required markings, shipper's declarations and easy-to-follow instructions.
Note: Compliance with UN/DOT regulations governing shipments of infectious substances in these approved shippers is contingent on the use of all supplied components. The shipper is ultimately responsible for determining the suitability of packaging for use with contents. Consult appropriate regulations.
SEE PRODUCTS
Infectious Product Range
Part
Number
Solution Description
Quantity
External Dimensions (in)
Manufacturing
Location
L
W
H
INF2000
Infecon 2000 infectious substance shipper
6/case
4.00
4.00
6.75
USA
INF3000
Infecon 3000 infectious shipper
12/case
6.25
6.25
7.50
USA
Questions? We're here to help. Chat now.