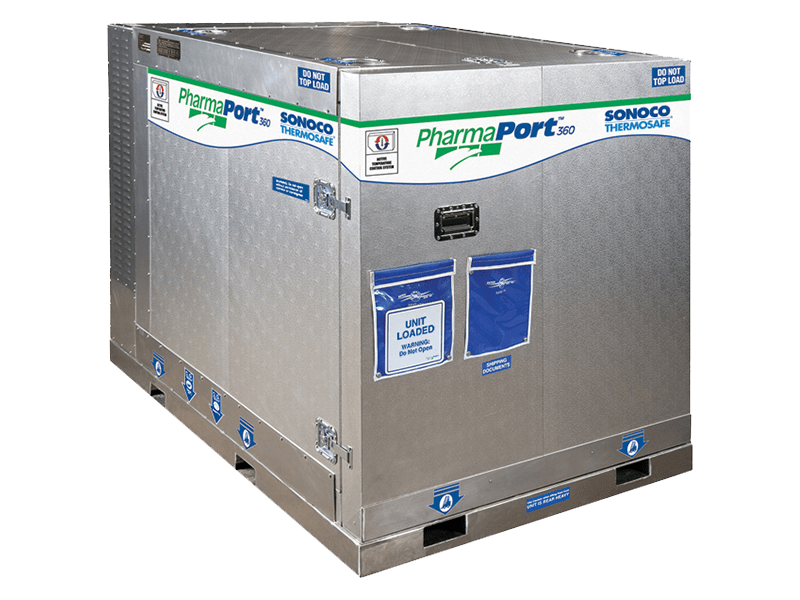 PharmaPort® 360
The best 5°c protection for shipping high value, temperature sensitive products
No One Offers Better 5°C Protection For Shipping High Value, Temperature Sensitive Products
Exclusive Pro-Tectic® Temperature Storage Technology offers active cooling and heating to maintain tight temperature control and uniformity through a range of severe ambient environments from -40°C to +60°C.
Precise 5°C Temperature Control
Rechargeable Using Standard 100-240VAC Power
Energy Efficient, Internally Powered in Transport
Advanced Monitoring and Tracking
PharmaPort® 360 Advantage
Designed by experienced pharmaceutical refrigeration, preservation and controlled storage engineers
Proprietary technology meets or exceeds World Health Organization "Cold Chain Storage and Distribution" guidelines
Self-contained after charging, Pro-Tectic® Temperature Storage Technology eliminates HAZMAT costs associated with dry ice; uses no CO2 or LN2 and minimizes external impact on storage area, and reduces need for insulative packaging
High-efficiency composite wall insulation is rated at >R70 to tolerate extreme ambient differentials while maintaining straight-line 5°C storage temperature
Comprehensive data logging continues during recharge and transport modes
The 100% solid surface container base permits forklift access from all sides to simplify handling and warehousing, to optimize the center of gravity and to resist tipping
Eliminates the need for a refrigerated truck
SEE PRODUCTS
Already a rental customer?
Click the login button below to access ThermoSafe Connect. Our platform gives you an all-in-one self-service portal for rental management to securely and easily retrieve accurate, up-to-date rental packaging information.