MARCH 23, 2021
Temperature Assurance Packaging Rental Programs Defined: Q&A with Andrew Heholt, ThermoSafe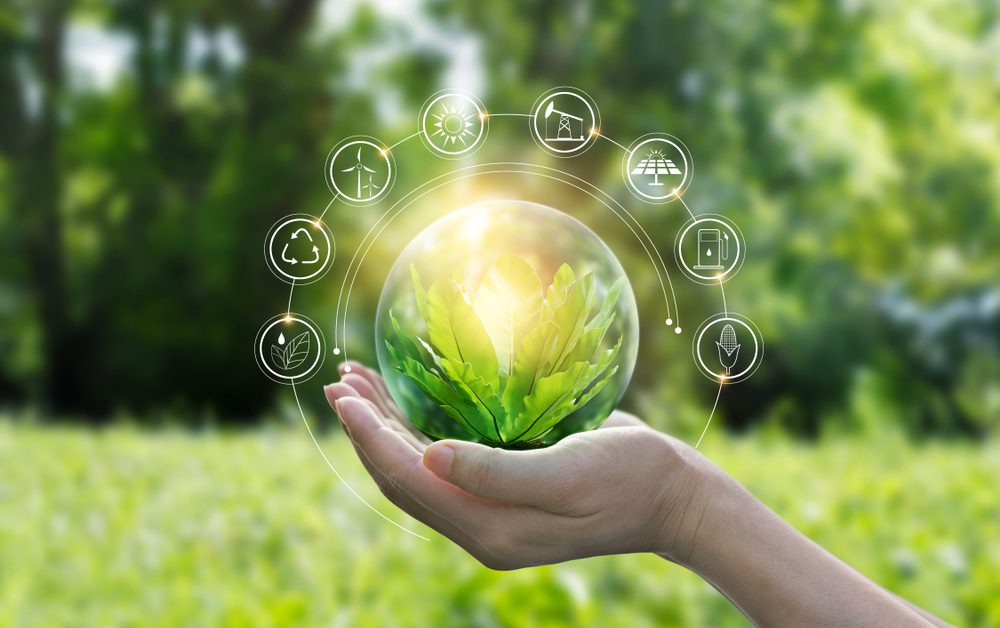 Corporate sustainability initiatives have taken center stage in pharmaceutical supply chain and logistics planning in the last couple years. The traditional view would say logistics is all cost to the pharmaceutical business, producing a lot of waste and pollution. When in reality, smart logistics choices can have a significant contribution to meeting the company's sustainability goals. Instead of being part of a problem, they are actually a massive part of the solution.
In this article, Andrew Heholt, Business Development Director and Orion Product Manager at Sonoco ThermoSafe explains how they have seen the new Orion Rental Service taking hold in the pharmaceutical supply chain. We explore the steps for using a Temperature Assurance Packaging (TAP) Rental program and how you may start using it in your pharmaceutical and healthcare supply chains.
What are some of the reasons you've seen pharmaceutical shippers switch to using a box rental service for the parcel shipments?
Pharma has been operating in a world of complexity. We have seen our customers switch into a rental service to increase business efficiencies and reduce costs. A box rental service focuses on various aspects of the customers operational setup, shipping, and sustainability:
Packaging
Operational infrastructure
Preconditioning capabilities
Inventory management
Labor
Contribution to the waste stream
Implementing a rental service into our customer's shipping and distribution programs drives quantifiable benefits, achieves cost saving targets, and meets corporate sustainability objectives.
What type of company or products being shipped are ideal for a box rental service?
We believe that pharma & biotech represent the type of companies which can benefit from this service. In this highly regulated industry, these companies ship to strict temperature range standards to reliably get their life improving/saving products to patients. Our box rental service offers multiple sizes and temperature range configurations for our customers to choose from. The system is modularly designed and uses common components making it simple to be reconfigured for different shipping requirements. These parcel sized boxes are typically used for the following types of shipments:
Clinical trials
Commercial distribution
Direct-to-physician
Samples
Research & Development
There are common parcel sizes which are prevalent in this segment, typically below 40L in volumetric capacity. The vast majority is being used for shipments where the receiving site doesn't require specialized handling equipment. Additionally, the receiver is required to prepare the box for the pick-up and return to the rental station. Recovery is an important aspect of the service for it to properly function and be available for reuse.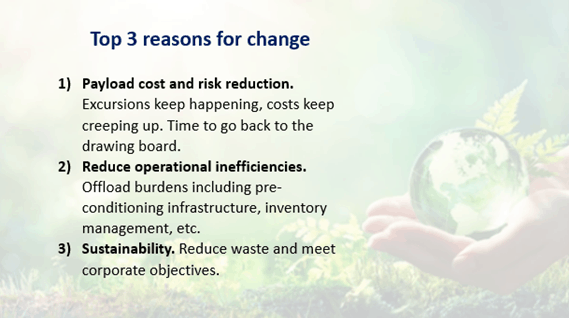 Why are some people/companies hesitant to use a rental service?
Despite that rental packaging has been available in the market over the last 10+ years in one form or another, we see 3 main reasons why it has been slowly adopted.
Unclear value proposition. Companies simply don't understand the concept and the benefits of a rental service.
Lack confidence in the service provider. We have heard stories of hesitancy from executives who felt that their vendors lacked the resources and structure to offer a box rental service. Perception is important and a vendor should be able to undeniably demonstrate their competency and capabilities to design and implement a reliable service.
Time and proven success. Anything new takes time to be adopted. As more companies choose to use a rental service, success stories highlighting the numerous benefits become more widely known and solidify the benefits of the box rental service concept
At Sonoco Thermosafe, we've taken apart the concept of temperature-controlled box rental, and put it back together again, fully re-engineered. The result is the all-new Orion box rental service for life sciences, biopharmaceuticals and healthcare. Our solution is simple, smart and sustainable.
So how does the process work, what are the main steps for the customer?
For the Orion system, there are five simple steps to the rental process. 1) Customers use the self-service ordering portal, ThermoSafe Connect, via any laptop, smartphone, or tablet.
2) Customers are shipped JIT fully pre-conditioned, ready-to-use rental packaging.
3) Customer loads product and scans label to ensure the Orion system initiates proactive collection after delivery. By having boxes ready-to-use, this significantly reduces labor and inventory management associated with complex or seasonal pack-out configurations.
4) After delivery, the Orion system initiates an innovative box recovery solution for the scanned boxes. Transport pick up arrives within 24 hours.
5) Upon return into the rental network, boxes are received, inspected, refurbished, cleaned, and prepared again in a like new state for the next rental.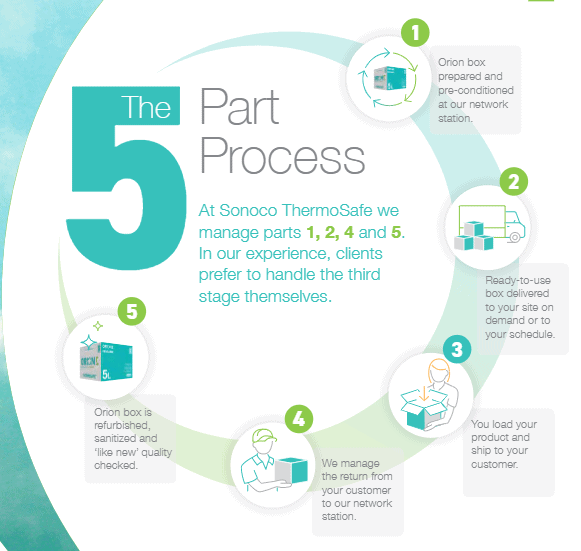 What are some of the limitations of past rental programs and how can they be avoided in the future?
Early generation programs were shiny and new. They promised reduced packaging and shipping costs. These programs were susceptible to a variety of problems which plagued early vendors and customers. Let's unpack one of the challenges.
For a box rental service to be successful, the underlying rental fleet must be sufficiently large enough to manage the volume of business. This considers the length of rental cycle, receiving site dynamics/behaviors to reliably return boxes, losses, and managing the challenges of moving parcels through transportation networks. Today, the use of technology, the implementation of robust processes, and automation elevate the rental service to reliable levels of operation. If you would like to learn more about the benefits of the service, we would be happy to have a conversation with you.
How is the Orion different?
In summary, I would say:
An intuitively designed self-serving portal named ThermoSafe Connect gives the user the flexibility to take control and manage the service from office, home or on the go. This is truly a customer-centric designed application.
The integrated technology of the Orion provides traceability of the shipments and drives predictability into supply chain planning.
The use of rugged, durable, and lightweight materials provides an additional layer of protection to the insulation and refrigerants making it the longest lasting rental packaging system on the market. This means that the costs saved from a lower rate of repairs, increased longevity, and a higher fleet utilization rate help to ensure that the rental prices are the most competitive in the field.

If someone wants to learn more about how Temperature Assurance Packaging rental program works, or ready to consider the switch – what should they do first?
There's a lot of information available online, good place to start evaluating how the different rental programs compare. The Orion video explains our program very well. Talk to your current solution provider on how you can explore your goals whether it's better performance, logistics cost reduction or finding more sustainability.
Transitioning from a solution you've had for some time, to a rental temperature assurance packaging may seem complicated. However, when you take a step back and examine your shipping and distribution strategy, rental may be just the right fit you're looking for. Contact Sonoco ThermoSafe to discuss your current TCO and just how green your future could be.
About Sonoco ThermoSafe 
Sonoco is committed to creating sustainable products, services and programs for our customers to support our corporate purpose of Better Packaging. Better Life.  
Sonoco is named as one of Barron's 100 Most Sustainable Companies, helping 70+ customer facilities achieve 'Zero Waste to Landfill' status. 
Sonoco recycles, or causes to be recycled, the equivalent by weight of 65% of the product it places in the marketplace. Learn more about our Sustainability initiatives.