NOVEMBER 2, 2020
AirBridge Cargo Airlines To Offer Sonoco ThermoSafe's Pegasus ULD®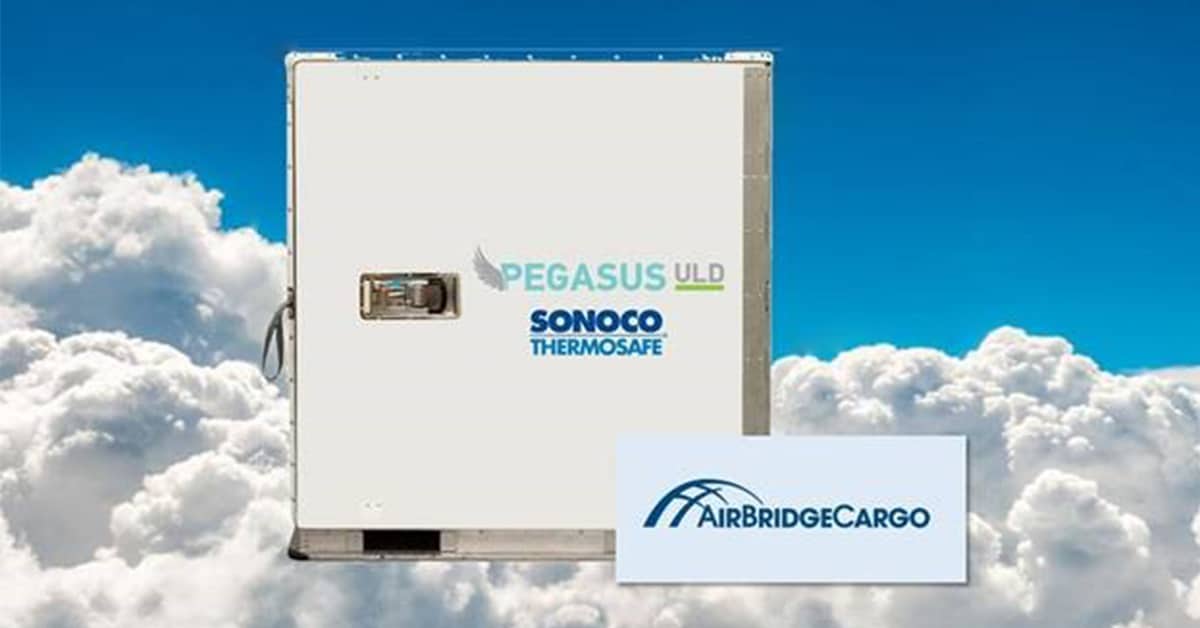 Sonoco ThermoSafe announced that AirBridge Cargo Airlines, a unit of Volga-Dnepr Group, has signed a Master Lease Agreement (MLA) to offer ThermoSafe's new Pegasus ULD® bulk temperature controlled container directly to its clients.
The Pegasus ULD® is the world's first passive bulk temperature-controlled container for pharmaceutical use that is an FAA-approved unit load device, which allows it to speed through existing international ground handling and customs processes at the lowest possible cost.
Engineered with composite materials, the Pegasus ULD® will offer a lighter solution that is substantially more damage-resistant than traditional metal containers. Additionally, the Pegasus contains a fully integrated, FAA approved telemetry system, providing real-time, cloud-based data on payload and ambient temperature and key environmental factors, precisely synchronized with GPS location.
Yulia Celetaria, Global Pharma Director for AirBridgeCargo Airlines, comments: "We are delighted to move one step further together with Sonoco ThermoSafe and introduce this revolutionary ULD to our customers which creates a number of benefits and simplify the operations process. Since 2019, we have been working with Sonoco to guarantee safe and reliable healthcare logistics, which has become of paramount importance this year. Sonoco ThermoSafe has been able to quickly adjust to the market demands and engineer the new Pegasus ULD, which will be highly appreciated by the Life Science and Healthcare community, especially for large volumes of pharmaceutical shipments".
Bourji Mourad, Pegasus' Director of Global Logistics & Partner Management at Sonoco ThermoSafe adds:'The inclusion of our Pegasus Passive Unit Load Device to ABC Pharma will offer our mutual customers peace of mind performance-wise; and a more cost-effective way of transporting life-saving drugs around the globe."
Visit www.thermosafe.com/pegasus-uld to learn more.