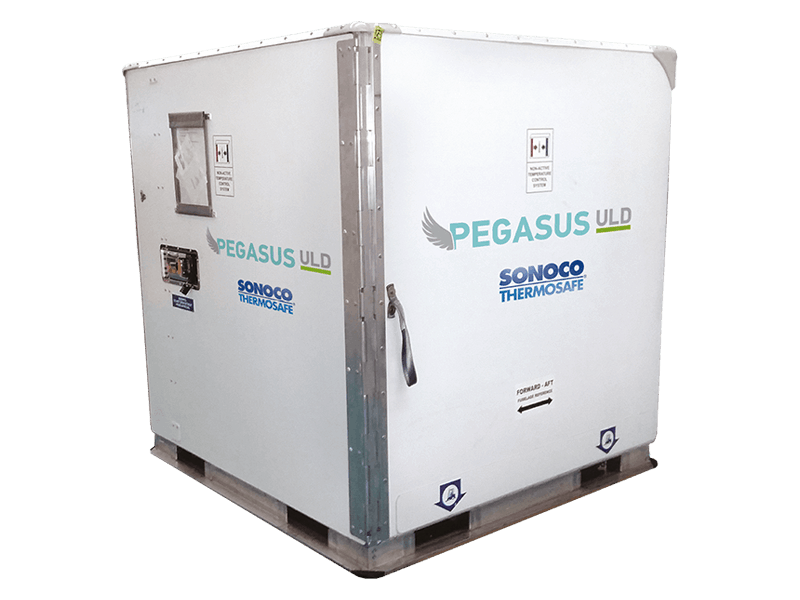 Pegasus ULD®
Simple. Smart. Sustainable.
Transporting bulk quantities of pharmaceuticals and vaccines just got a whole lot more economical and efficient. That's because Pegasus ULD has landed – the first passive Unit Load Device (ULD), pioneered by Sonoco Thermosafe. It's a unique proposition, specifically for the Life Science and Healthcare community.
Simple
Pegasus ULD is a cargo-friendly container supplied as part of a customer-friendly rental package.
Smart
Integrated onboard telemetry monitors your shipment on the ground and in the air, recording everything from temperature to tilt.
Sustainable
It's time to ground those single-use containers. The rental model means Pegasus ULDs are reused several times over. On retirement, they are 90% recyclable by weight.
With increasing demands for life science and healthcare companies to ship in larger quantities, the Pegasus ULD was specifically designed to fulfill a gap in the market for passive bulk packaging solutions.
Engineered with composite materials, the unit load device will offer a lighter solution that is substantially more damage-resistant than traditional metal containers.
Additionally, Sonoco ThermoSafe customers will experience cutting edge integrated real-time data capabilities, including internal and external temperature tracking and robust geolocation.
Because risk mitigation decisions are based on accurate and timely data, Pegasus ULD users will be able to count on these capabilities when they need them the most.
Already a rental customer?
Click the login button below to access ThermoSafe Connect. Our platform gives you an all-in-one self-service portal for rental management to securely and easily retrieve accurate, up-to-date rental packaging information.