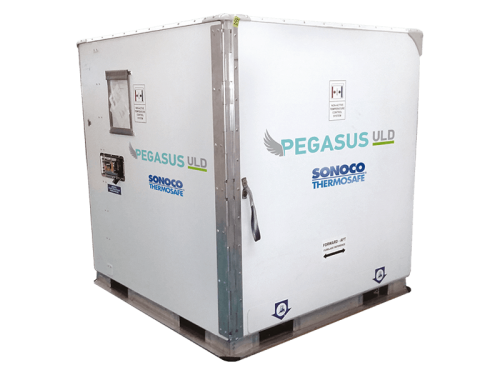 Pegasus ULD®
Simple. Smart. Sustainable.
Transporting bulk quantities of pharmaceuticals and life science products just got a whole lot more economical and efficient. That's because Pegasus ULD has landed – the first passive Unit Load Device (ULD), with FAA & EASA approval pioneered by Sonoco Thermosafe. It's a unique proposition, specifically for the Life Science and Healthcare community.
Simple
Pegasus ULD is an aircraft friendly, passive temperature controlled container, accessible via the Sonoco network of stations and our partners with a signed master lease agreement in place.
Smart
Integrated onboard telemetry monitors door to door, on the ground and in the air. Recording everything and transmitting data on real-time temperatures, location, door opening and more.
Sustainable
Pegasus ULDs are reused several times over; any damage to the equipment is repaired immediately by FAA & EASA approved ULD repair companies. On retirement, the Pegasus is 90% recyclable.
Engineered with composite materials, the Pegasus will offer a lighter solution that is substantially more damage-resistant than traditional metal containers.
Because risk mitigation decisions are based on accurate and timely data, Pegasus ULD users will be able to count on these capabilities when they need them the most.
Already a rental customer?
Click the login button below to access ThermoSafe Connect. Our platform gives you an all-in-one self-service portal for rental management to securely and easily retrieve accurate, up-to-date rental packaging information.