JUNE 22, 2023
10 Things You Didn't Know About ThermoSafe Europe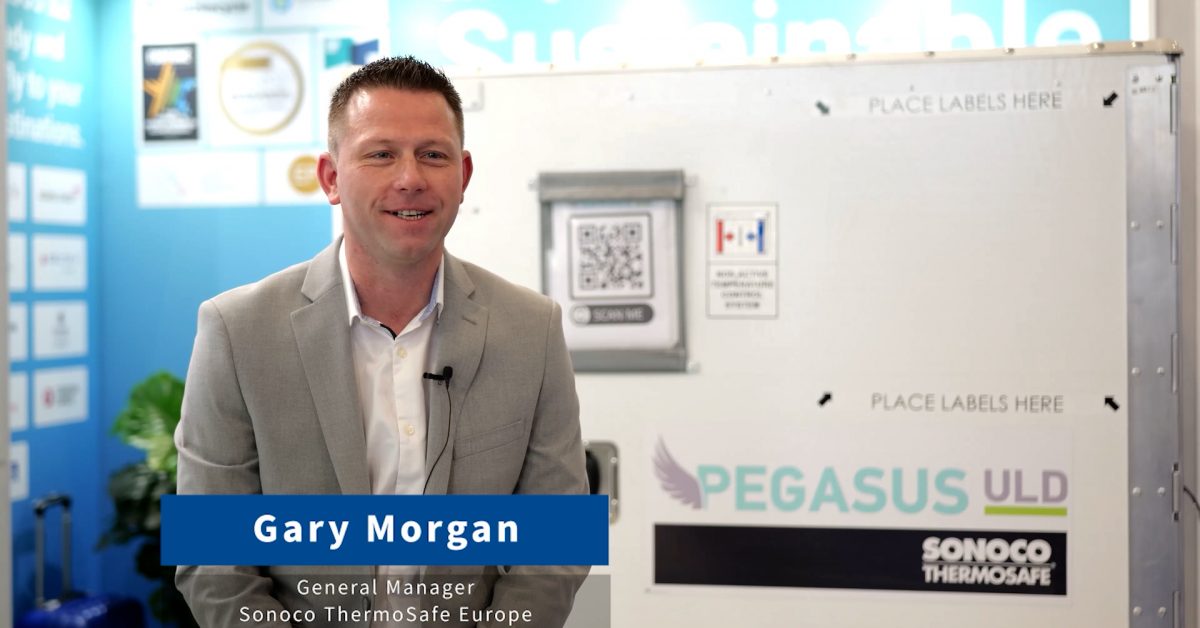 At the LogiPharma European conference this past April, the Pharmaceutical Commerce magazine interviewed ThermoSafe's Gary Morgan, Managing Director, and Federico Lupp, Business Development Director.
In this video, they talk about some surprising facts about Sonoco ThermoSafe Europe, as well as how the Pegasus ULD is serving unique needs in healthcare air freight.
Tring UK is a bustling hub of activity. Ideally centrally located in the UK, close to Pharma hubs and Heathrow airport. ThermoSafe's Tring UK facility includes the ISC packaging engineering Lab serving all of Europe; a rental refurbishment station for the Pegasus ULD air freight container, and a hands-on customer service hub for a wide portfolio of material-neutral products including pre-qualified parcel shippers, bulk shippers and a full suite of sustainable solutions.
The Orion reusable rental parcel shipper's European hub rental station is based in Brussels, at our partner CEVA Logistics facility.
ThermoSafe has 3 manufacturing facilities in Europe alone. Most products are produced at multiple sites, creating redundancy and supply security.
ThermoSafe manufactures all its own products.
ISC Labs has existed since 1989, one of the industry's longest running engineering labs for thermal packaging, specifically designed and ISTA qualified for healthcare and life sciences.
Sonoco ThermoSafe offers a full suite of sustainable thermal packaging solutions, including curbside recycle, reusable rental parcel, and bulk passive reusable air freight.
According to IATA, still today about 80% of pallet shippers are single-use. However, the tide is quickly turning toward more sustainable options, leading companies to consider alternative, reusable packaging and passive cooling containers.
Advanced Passive is a new class of air freight container. Passive + ULD = Advanced. The Pegasus ULD is considered aircraft equipment, moving through airport operations more smoothly, and making return logistics smoother.
Advanced Passive delivers comparable performance to Active. Up to 13 days or 300+ hours.
The Pegasus ULD has MLAs in place with most major airlines offering an extensive global network to multi-national pharmaceutical companies.
About Gary Morgan
Gary joined Sonoco back in 2006 as a Marketing Associate and subsequently became the Marketing Manager for the European Industrial Products division in 2007.  Gary moved into sales in 2010 as Sales Manager Ireland and during the last 15 years Gary has held various Sales roles within Sonoco, including UK Sales Director and as a Business Segment & Key Account Manager of Film, Tape & Label EMEA. Gary joined the Sonoco Thermosafe Team in July 2021 managing the business for EMEA and South East Asia. Gary holds a Bachelor of Science degree in Business Administration from Coker University in Hartsville 2006. Gary has over 17 years experience within the Packaging Industry across the EMEA and Global Markets. He has in depth knowledge of marketing, sales, strategy, business segment management and key account management in Europe and globally.
About Federico Lupp
Federico is Director of Business Development Bulk Rental EMEA & APAC at Sonoco Thermosafe. Previously Federico, was 15 years at DHL Global Forwarding covering Business Development EMEA & APAC, at Temperature Management Solution division. Founding team member at LifeConEx-DHL Joint Venture. Started his career in 1987 at Lufthansa Cargo in Buenos Aires, later Philadelphia, in several Sales and Operation functions. Federico has more than 30 years of experience in international logistics and has been over 25 years involved with Life Sciences cold chain special logistics. IATA International trainer for Time & Sensitive Cargo since 2011. Speaker at international cold chain conferences in US, Europe, Middle East, Asia Pacific as Latin America in the last 10 years. Federico attended Veterinary School of Medicine at the Universidad de Buenos Aires, where he earned a master's degree.
Education, Training and Insights
At Sonoco ThermoSafe we are engaging with teams and stakeholders, both internally and externally, to progress sustainability initiatives. Education and collaboration are key to solving packaging sustainability puzzles.
To stay up to date with all the latest Sustainability insights and developments, make sure you are registered to the Cold Chain Exchange.