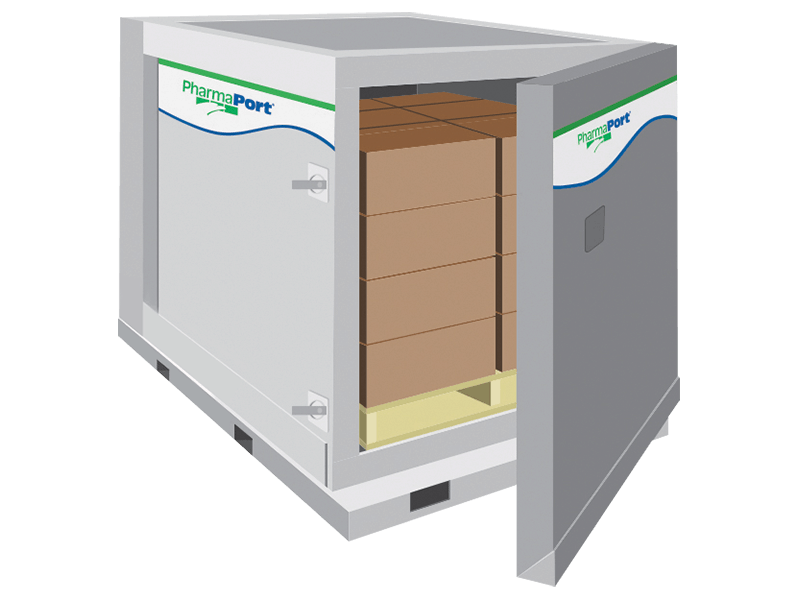 PharmaPort® 360 Specifications
Dimensions
Exterior: 80"L x 52.2"W x 58.5"H (203 x 133 x 149 cm, nominal)
Interior: 50.5"L x 44"W x 46"H (128 x 111 x 116 cm, nominal)
Payload Dimensions: 49.5"L x 41.5"W x 44"H (125 x 105 x 112 cm, nominal)
Payload Weight: 1102 lbs. (500 kg)
Container Weight (Net): 1200 lbs. (544 kg)
Electrical
Recharge Mode: 100-240V, AC (nominal) 50/60Hz, 15 amp circuit with international plug adaptor. Universal power input for global compatibility. System must be recharged between shipments.
Transport Mode: Self-powered, no external connection required. Refrigeration compressors and heaters are idle and regenerative heat exchanger provides heating and cooling on demand to maintain setpoint. Setpoint: Fixed at 5°C; no user adjustment
Temperature Performance
Setpoint: Fixed at 5°C; no user adjustment Total Temperature Tolerance from Set Temperature: ±2.0°C* * Temperature tolerance speci­fications are for full range of extreme ambient conditions and ambient temperature transition pro­files. Test results available upon request.
Ambient Temperature Range: -40°C to 60°C
Hold Times, Transport Mode: >72 hours@ 30°C ambient, >100 hours @ 23°C ambient*
* Hold time speci­fications are veri­fied by testing with worst-case load scenario of empty cardboard boxes (high volume, low mass). Typical product loads provide thermal mass and will therefore increase hold times substantially.
Shipping and Logistics
Accommodates standard 40" x 48" pallets (101 x 122 cm, nominal)
Four-sided forklift access
Secure, customs-tagable locking device
Rugged design withstands abuse of commercial transportation
Change and Change Mode Function
The PharmaPort® 360 maintains temperature control during recharging and transport. Internal functions are enabled or disabled according to mode in effect.

The PharmaPort® 360 has a gross self-contained footprint of 80" x 52.5" (203 x 133 cm) and is designed to fit on standard NAS Series air cargo pallets. The PharmaPort® container can be loaded in single or dual configurations depending on pallet size, need and preference.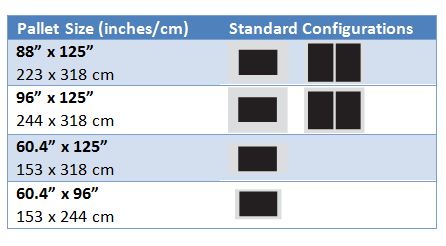 The PharmaPort® 360 can be loaded onto the lower or upper deck of an aircraft. Shown, two PharmaPort® 360's on a standard NAS pallet.